CURIOUS? 
We knew you would be
QUESTIONS
We're glad you asked! Our scrubs are made from GreenThreads™, our own 100% recycled proprietary fabric. We developed it exclusively for our high-performance scrubs to give them the lowest possible environmental footprint. But the fabric is just the start. Inspired by the performance and versatility of activewear, our scrubs are designed to be more comfortable than traditional scrubs.

We've road-tested other scrubs and used our experience in healthcare apparel to create an improved scrub design, with function and style in mind. Our scrubs allow health and care workers to perform their duties with ease and to look good.

Premium quality, 100% recycled, better designs.
Functionality
Hidden pockets (built into the garments instead of patch-pockets on top) provide a more streamlined silhouette and a smarter design
Reinforced pockets and seams make our garments more durable, ensuring they last longer
And because we use true Australian sizing based on the latest available data, you know our scrubs will fit


Versatility
Clever designs that give you the flexibility to change a straight leg into a skinny leg with a simple press stud, giving you two styles in the one garment
Tailored fit – pants with different leg lengths to fit everybody

Sustainability
We use fabric instead of ribbing to create features such as waistbands and cuffs, minimising textile waste
Our commitment to sustainability over fast fashion ensures we always operate with the planet top of mind
GreenThreads™ is 100% recycled and it's light, breathable and softer than you can imagine.

Breathability is important in all workwear. GreenThreads™ has the same natural abilities to absorb moisture and keep you cool, like cotton. When you're busy and on the go, you need to feel comfortable, especially at work. GreenThreads™ feels lighter than most other scrub fabric, while still having the durability and drape of quality material.
Durability, comfort and sustainability were the non-negotiables for our scrub fabric. Our fibres are incredibly strong, meaning they don't tear or wear like cotton and other natural fibres.
All sustainability endeavours make a difference, but we didn't want to do things by half. It had to be 100% recycled or nothing! While some other brands use recycled materials for their scrubs, the recycled content is often less 50%. Or they will not say exactly how much of the fabric contains recycled material.

Our scrubs are made from GreenThreads™, our proprietary fabric derived from 100% recycled plastic bottles and coffee grounds.

Our fabric is 100% recycled. At this stage, the other component like elastic, waist ties and zipper are not recycled. But watch this space. We're working on it!
Cotton blends have traditionally been a preferred fibre for many scrub brands, with natural properties including breathability and moisture absorption.

However, the production and processing of cotton for clothing has a significant impact on the environment. Cotton is a water-intensive crop requiring large amounts of pesticide and fertiliser. Cotton garments are also known for fading easily, losing their shape and shrinking. 
Stretch fabrics have been around for a long time now. However, most people do not realise the fabric's 'stretch' comes from the addition of materials like elastane, spandex or lycra.

Elastane is made from fossil fuels, which are non-renewable resources, and is created through a chemical-heavy process. While we all enjoy the comfort stretch fabrics offer, we wanted to explore other ways to create a flexible fit without harming the environment. 

Natural stretch is a key feature of our GreenThreads™ fabric and scrubs design. The stretch is in the weave, which gives you flexibility and freedom to move.
This is our super ingredient! The recycled coffee-grounds content of GreenThreads™ naturally brings some incredible features, including: 
• Natural odour control - goodbye smells, hello fresh!
• Moisture wicking fabric
• 50+ UV protection
We want to make great scrubs and good choices when it comes to how we operate. This includes our 100% recycled fabric, packaging solutions that are made from 100% post-consumer waste and minimising the amount of material we discard.

Our manufacturing partners have waste initiatives in place. Fabric offcuts are bundled up and sent for processing into new products, creating a circular economy.

We choose not to have a ribbed cuff on our jogger pants, which eliminates the need to produce another type of fabric. By using the same material as the rest of the garment, we have achieved a streamlined look with perfect colour-matching, which is a smart choice for style as well as the environment.
All the decisions we make as a business have the planet in mind and we will always look for smarter and better ways to do things every day.
The fabric of our scrubs is 100% recycled. However, accessories like zips, studs and elastic are not. We're working with our manufacturers to find sustainable options for these items and will transition to these as soon as practicable.
While the process of collecting waste and repurposing it into our GreenThreads™ fabrics adds to our costs, we don't believe that choosing sustainable products should be a cost-based decision. That's why our prices are comparable to other premium scrub brands. But, when you buy our scrubs, you're making a difference to the planet and the life it supports.
We're committed to closing the loop on textile waste and we wanted to create a program that helps our environmentally conscious customers be a part of our vision for a world free from landfill.

While we're asking you to cover the cost for sending your old scrubs to us for recycling, we cover everything else. This includes costs for unpacking, sorting and storing the scrubs before they're transported to the recyclers, when we pay a fee per kilogram for recycling your old scrubs. We see this as a partnership for a better planet.

Our recycling program is completely optional. Opt in or out, either way you can feel good knowing you've chosen to purchase scrubs made from 100% recycled fabric.
The bags we use to ship our fabulous scrubs to you are made from 100% recycled plastic.
If you're participating in our Operation Green Scrubs recycling program, the shipper bag can be used to send your old scrubs back to us for recycling. Find out more on our Recycling page.
When you upcycle your old scrubs through our Operation Green Scrubs program, you're keeping textiles out of landfill. Your scrubs will be responsibly recycled, meaning they are sorted, shredded and turned into new fibres.

These recycled fibres are used in products including stuffing for pet beds and furniture, gardening gloves, the 'fuzz' on the outside of tennis balls and even ceramic floor tiles.

There are very few options for recycling textiles in Australia. That's why we've partnered with Textiles Recyclers Australia (TRA) to deliver Operation Green Scrubs. TRA is not new to this space. In fact, TRA has been working on solutions for textiles waste for more than eight years, while driving change at government level.

Find out more about the amazing work TRA is doing here.
You can absolutely recycle any old scrubs through our Operation Green Scrubs take-back program. Textile waste is a huge problem, so we have not limited the recycling program to only our scrubs.
DISCOVER MORE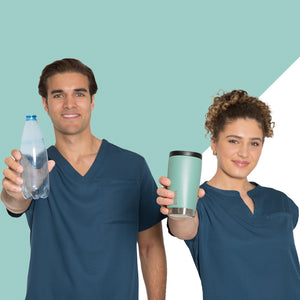 GreenThreads™
The first scrub made from 100% recycled material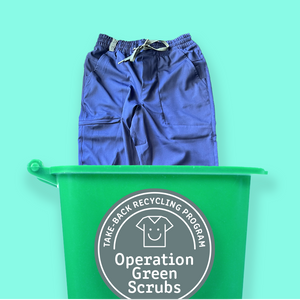 Operation Green Scrubs
The recycling program that gives your old scrubs a new life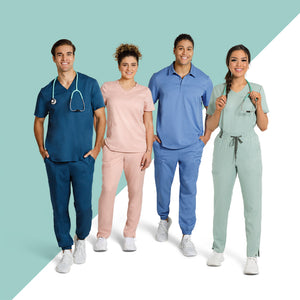 Shop collection
100% recycled
100% comfort