Say hello to Sustainable Scrubs - the vanguard of healthcare fashion that's making clothing that looks good, feels great and has a heart with a social conscience. Remember Hand 2 Heart? Well, we've undergone a transformation, emerging as Sustainable Scrubs with the same unwavering mission. 
Prepare to be captivated as we redefine medical attire. Extraordinary is in and fast fashion is out – our scrubs effortlessly fuse unparalleled style and comfort with sustainability for our planet. We refuse to ignore the colossal environmental waste crisis within the industry. That's why we've taken charge, rolling up our sleeves (literally and figuratively) to confront this challenge with determination, hand to heart, to make an impact on the healthwear industry, and beyond.
The a-ha moment
A global quest for sustainable fibres culminated in a serendipitous coffee meeting in Melbourne, the unofficial coffee-drinking capital of Australia. Who knew that fabric made from recycled coffee grounds could be the game-changer we were seeking? Collaborating with our mills, we embarked on an extraordinary journey to create a sustainable fabric from discarded plastic bottles and coffee grounds.
Kim Lee
Co-Founder, Scrub Designer and Senior Supply Chain Manager 

Meet Kim, our mastermind behind product innovation and development. With a keen eye for sourcing the latest fabric technology and managing production, Kim brings over 30 years of experience in fashion garment production for renowned brands like Scanlan Theodore and Country Road. From crafting stylish workwear designs for corporate and healthcare professionals to ensuring impeccable quality and design, Kim's expertise guarantees that our scrubs meet the highest standards.
Nat Lippiatt
Co-Founder, Brand and Sustainability Manager

Meet Nat, the driving force behind our brand and marketing efforts. With a passion for showcasing how our products can positively impact both work lives and the planet, Nat brings a wealth of experience to the table. With 8 years on the Board of the Children's Cancer Foundation and a background in health marketing, Nat has an innate understanding of what defines a brand's DNA.
Nat also oversees our sustainability initiatives, forging partnerships and collaborations with companies that share our commitment to responsible textile recycling. This ensures that our products meet the sustainability benchmarks that our business customers expect.
Our mission
We're on a mission to shrink the environmental footprint of the health sector. How? By conserving natural resources, minimizing waste, and making every step count.
How we do this
• Sustainable scrubs: Made from 100% recycled fabric
• Driving end-of-life recycling to combat textile waste
DISCOVER MORE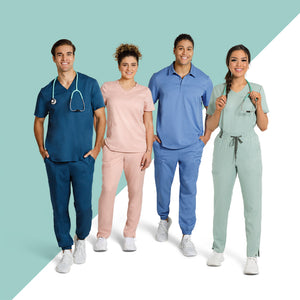 Shop range
100% recycled
100% comfort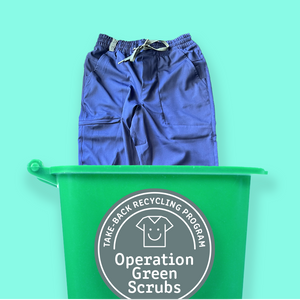 Operation Green Scrubs
The recycling program that gives your old scrubs a new life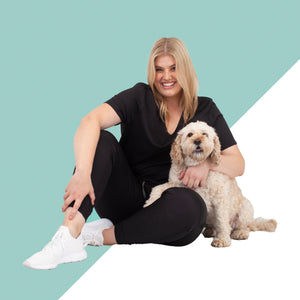 FAQs
Curious?
We knew you would be